August 10, 2016, Pittsburgh, PA- For the second consecutive year, commercial drone manufacturer Identified Technologies has been named as one of seven 'Start-Up of the Year' finalists by the Pittsburgh Technology Council as part of its annual Pittsburgh Tech 50 Awards and 20th Anniversary Celebration.
The Tech 50 recognizes southwestern Pennsylvania's most successful, innovative and thought-leading technology companies, which have become the backbone of Pittsburgh's new economy. Winners will be announced at an awards ceremony to be held on Thursday, November 3, 2016 at the Wyndham Grand Hotel Pittsburgh.
"I am fortunate to have the opportunity to work with such a talented and dedicated group of people here at Identified Technologies. The credit for this recognition is entirely thanks to our team's skill and commitment to our expanding list of clients," said Identified Technologies CEO Dick Zhang from the company's offices near Bakery Square in East Liberty.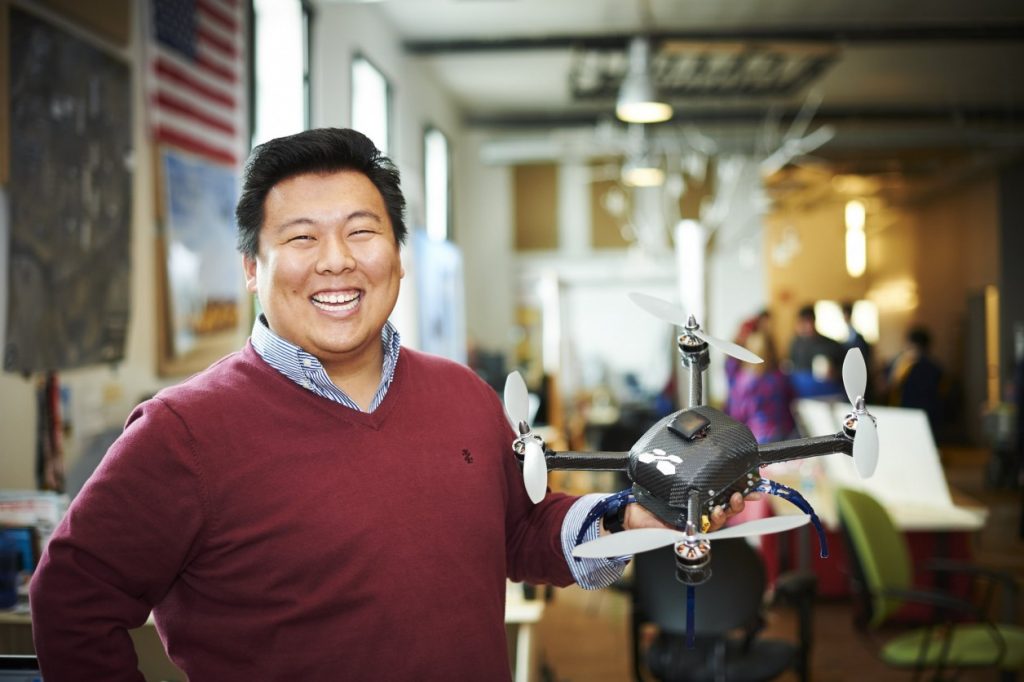 Since being named a Tech 50 'Start-Up of the Year Finalist' last year, Identified Technologies has grown to nearly two-dozen employees and has added some of the region's largest companies, including EQT, PJ Dick, JB Fay, and ARM Group to its client base.
"We are honored to have been selected by the Pittsburgh Technology Council with homegrown start-ups that are transforming the world like DuoLingo and Congnistx. All the Tech 50 finalists show us what's possible and inspire us to push even harder," said Zhang.
Complete Tech 50 2016 Finalists List – Source: PGH Tech Council
Start-Up of the Year
BOSS Controls
BoXZY
Cognistx
ContainerShip
Duolingo
Innovator of the Year: Consumer Products
2nd Skull
Diamond Kinetics
RedMorph Inc
YinzCam, Inc.
CEO of the Year
Ron Bianchini, CEO and President, Avere Systems
Greg Harmeyer, CEO & Founding Partner, TIER1 Performance Solutions
Michele McGough, CEO and President, solutions4networks
Joel Reed, CEO, OpenArc LLC
JesseSchell, CEO, Schell Games
Robbin Steif, CEO & President, LunaMetrics
Innovator of the Year: Health IT
Careform, Inc.
Iagnosis, Inc.
Rijuven Corp
TeleTracking Technologies, Inc.
Touchtown
Treatspace
TrueLearn
Solution Provider of the Year: Consulting and IT Services
Accion Labs Inc.
Apogee IT Services
Continuum Managed Services
OpenArc, LLC
Plus Consulting
RDX
SDLC Partners L.P. – Monroeville, PA
Summa
Innovator of the Year: Life Sciences
AbiliLife
CardiacAssist, Inc. dba TandemLife
Foundation Radiology Group
InteloMed, Inc.
Peptilogics
Tobii Dynavox
Solution Provider of the Year: Innovative Technology
ANSYS, Inc.
Avere Systems
Matrix Solutions
Savvior
ShowClix
Simcoach Games
Voci Technologies, Inc.
Innovator of the Year: Manufacturing – The Kurt J Lesker Award for Excellence
Advantech US Inc.
Aquion Energy
Interphase Materials
Optimus Technologies
Seegrid
threeRivers 3D, Inc.
Culture Leader of the Year
Autosoft, Inc.
Confluence
LunaMetrics
Robots and Pencils
Summa
TiER1 Performance Solutions
Identified Technologies was founded by Zhang in 2013 while he was studying mechanical engineering at the University of Pennsylvania, where he was involved with the school's General Robotics, Automation, Sensing and Perception Laboratory and its research into small unmanned aerial vehicles. The company won Penn's Y-Prize Business Plan Competition in 2013 after developing a software and hardware platform based off SUAVs. Zhang moved to Pittsburgh in late 2013 after being accepted into AlphaLab Gear's inaugural class.  Since then, Zhang has been selected as a Pittsburgh Business Times Fast Tracker, Ernest and Young Entrepreneur of the Year Finalist, recruited heavily from local universities and raised over $3.5 million in venture capital funding.
Earlier this year, Identified Technologies was named a 'Brilliant 100 Company' and a 'Top 10 Tech Companies to Watch' alongside UBeam and Magic Leap by Entrepreneur Magazine, and was recently covered by the New York Times, Inc, and the Huffington Post.
Identified Technologies uses smart drones to automatically capture 3-D project progress in real-time on industrial job sites.  Previously, site mapping and monitoring was traditionally performed by manned helicopters, fixed-wing aircraft, or ground level survey crews.  These expensive, dangerous or slow options often forced crews to risk using inaccurate, out of date information.
The Tech 50 Awards represent transformative technology centers of excellence with tech companies at all stages of growth. Zhang credits the assistance Identified Technologies has received from the Pittsburgh startup community to the company's success.
"Everything we have accomplished is thanks to the collaboration and support of the Pittsburgh community, particularly Birchmere Ventures, AlphaLab Gear, Carnegie Mellon University and the University of Pittsburgh. Our drones would never have gotten off the ground without the region's support and we are extremely grateful to be a part of Pittsburgh's growing startup community," said Zhang.