13 Jan

Customer Spotlight: How Keystone Consultants Offload In-House Costs with Drone Mapping

When looking to build upon success, one way of doing so is examining from within your organization to find ways to improve. Keystone Consultants, came to the realization that monthly flyovers were becoming too expensive and on-foot inspections of well pads were not the best use of their employees time. So they started to look at drone mapping software applications knowing they would no longer have to rely on paying for traditional flyovers and avoid misuses of their labor force.
At first, they considered doing the work in-house by owning the entire process including hardware, software, and data processing. However, they realized owning and maintaining a drone and hiring additional employees for processing data would dramatically increase project costs and cause inefficiencies in their workflows.
After much consideration, Keystone realized the only way to cut project costs and improve jobsite efficiency at the same time, was with a fully-managed commercial drone solution.
A Solution that Works for Them
By integrating their business with a fully-managed commercial drone solution, Keystone discovered not only do they get the necessary drone mapping software, but they have the resources to perform their own aerial surveys on an ad hoc basis at a fraction of the cost of traditional flyovers, and process and return data to analyze in less than 24 hours! Plus, they no longer have to worry about upfront hardware costs or upkeep which gives them peace of mind knowing if something happens to the drone, it's replaced with no additional costs.
Historically, Keystone spends approximately half a day (or more) to survey one well pad; however, having a fully-managed solution, Keystone now surveys six well pads in one day. As a result, Keystone achieves higher profits cutting costs on every project to and improves employee productivity by over 70% by not spending days at a time inspecting well pads.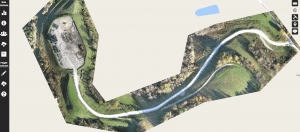 Orthomosaic image of well pad on Keystone's site.
In the end, by utilizing drone mapping software, Keystone has transformed the way they do business. By reducing capital expenditures such as survey costs and increasing employee productivity by offloading several time-consuming tasks, Keystone is set up to finish projects faster and deliver product at a rate they've never seen before until now.
Here at Identified Technologies, we're only successful if our customers are successful and on behalf of the entire team, we'd like to congratulate Keystone Consultants on their achievement!
Related Content: The Real Costs of Commercial Drone Ownership
Keystone's Blueprint for Success
Time to market:
"We considered doing this in-house, but we would have had to hire people who were used to processing this kind of data, and legally set ourselves up to do the work. Identified provided a very attractive mechanism to be up and running in a short period of time."
Employee productivity:
"Historically, it would take a survey team about half day to survey each well pad.  By using Identified Technologies for all of our aerial surveying needs, Keystone was able to survey 6 well pads in a single day and received their data in near real-time, increasing employee productivity by over 70%."
About Keystone Consultants:
Keystone Consultants, Inc. is a Pittsburgh-based professional and technical firm established in 1991. Keystone provides creative and technical solutions for the complex problems of the energy and telecommunications industries. Keystone services include civil engineering, environmental permitting, surveying, right of way (ROW) acquisition, and mapping/GIS. Privately held, Keystone fosters an entrepreneurial environment and a corporate culture focused on exceeding customer expectations, safety, quality delivery, and employee welfare.
To read more coverage of this exciting news, please read the full articles below: