23 Oct

How Drone Mapping Transforms Geomatics Operations [Monthly Flyover]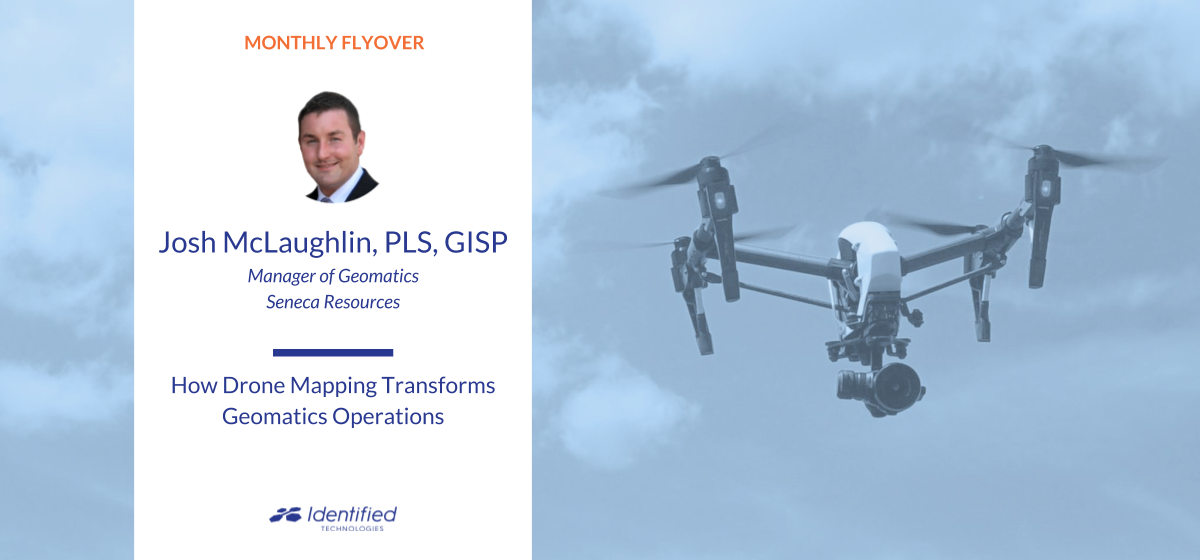 We recently had the opportunity to speak with Josh McLaughlin, Manager of Geomatics for Seneca Resources, on the impact of drone mapping with his geomatics team and his company — which specializes in natural gas.
Being an early adopter of drone mapping, Josh provides an honest, firsthand account of how his GIS and surveying departments are transforming their operations due to the impact of this technology. 
What can you expect by reading below?
Without giving too much away, Josh discusses why mapping drones are NOT replacing surveyors, the hybrid approach his team leverages with drone mapping, and what we should be on the lookout for with drone technology.
Keep reading below about these topics and more!
Q: How closely do you work with surveyors? What type of projects do you work on?
A: I manage the geomatics department. Under that umbrella, we have personnel whose sole focus is only surveying or GIS.
Also, some are hybrids that do both.
That way, if needed, they can go out in the field, or they can tackle a GIS project as well
It's a nice benefit we have here with cross training to enable these folks to do both.  
I also manage the third party and overflow contractor work that we can't do or don't have time to do in-house.
Q: As a GIS professional in the energy sector, what piqued your interest with drone mapping?
A: My initial interest in drones, as a GSI, was that several stakeholders in our company like to see our development process. I thought mapping drones could help with the task of capturing and reporting on this process more rapidly.
As a company our business focuses on natural gas — if we've built a well pad, they want to review it as soon as the construction is complete.  
That's what got us involved early with incorporating drone mapping with our GIS and surveying teams. From there we realized the value of the 3D elevation data available with the drone mapping software.

Q: When first introducing drone mapping to your GIS and survey teams at Seneca, was there any hesitation or concern?
A: Initially, yes.
However, they quickly realized there is always going to be a need for them to be present on projects.  
Soon after, the surveyors genuinely embraced it.
They realized it's possible to get more done in a shorter period of time using a hybrid approach — first, using the drone, and then the surveying and GIS teams manually capturing details the drone cannot get.

Q:  What are the limitations for drone mapping currently?
A: Right now the UAV can't capture the site if there is canopy.
So conventional surveying equipment is still necessary to measure densely vegetated areas with tree cover or high grass.
Also, if we need to know the exact edge of a road, well pad, or utility down to 1/100th of a foot we capture those manually as well.

Q: How is drone mapping helping the energy sector save the most time? 
A: The biggest time saver is surveyors using drone mapping for wide open spaces and then manually measuring the high-precision breaklines.  
It's much easier with this hybrid approach to capture the data and then bring it back to the office and create the final surface.
Without drone mapping, our guys would be out there taking ground shots all day.

Q: Can you give an idea of how the speed of drone mapping compares to doing it by hand to capture these wide open spaces?
A: It's 50% faster, at least.
Using drones allows our surveyors to get much more done in a shorter period of time.

Q: For surveying in general, stakeholders always want everything done yesterday. It's especially true in the energy sector where speed is a huge priority. Why is this?
A: Departments are always coming up with reasons they need data right away.  
Regulatory questions will come up such as, "Did you guys build the stormwater basin that is on the plans?"  
When those types of questions come up, you need to have that data available as soon as possible.  That's where I believe drones in the energy sector are making the most impact.
Thanks to drone technology, we can verify the work and provide the proof necessary to show the job is done.

Q: You've been in this industry for a while. Have you seen performance increases from past technology that compares to drone mapping?
A: The best comparison is GNSS (Global Navigation Satellite System).
It was such a huge time saver to integrate GPS with total stations.

Q: What are the technological advances in drone mapping do you predict over the next 5 to 10 years?
A: From my perspective as a GIS, UAV and LiDAR integration will be necessary for capturing vegetated areas and being confident the drone data is accurate.  
I foresee a day when it will be possible to create breaklines using machine learning algorithms as well automatically.  
Incorporating other types of sensors for analysis on vegetation to find wetlands will be in demand as well.

Q: Do you have any advice for others considering drone mapping?
A:  If you're going in-house and plan to process your data, it will take time, especially if you're frequently flying.   
If we weren't using Identified to process our data, we would need to hire another person to manage this aspect alone.
Beyond the data processing, we would also need to hire additional personnel that focuses purely on  FAA clearances, as well as managing upkeep of the drones, the flight plans, the data capturing process, the drone data storage, and hardware/software upgrades.  
That's why this partnership and workflow works so well for us.
Want more? Josh was recently a guest speaker for our webinar, Are Mapping Drones Replacing Surveyors? We discuss the topics mentioned above and others in an in-depth presentation and Q&A. Click here to check it out.