20 Nov

Monthly Flyover: How Does Drone Mapping Impact a Construction Project?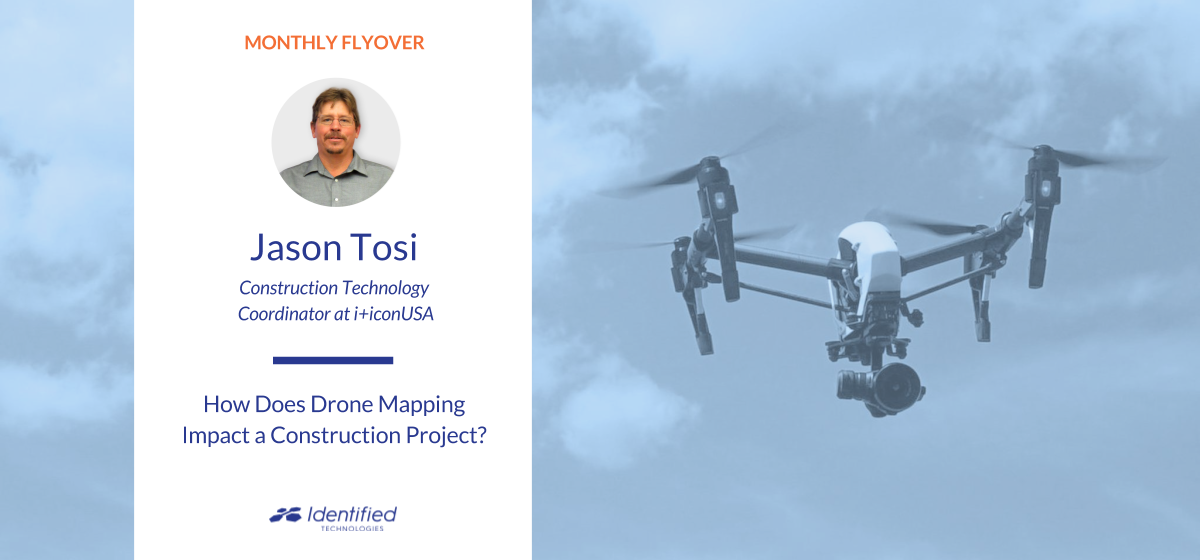 We sat down with Jason Tosi, Construction Technology Coordinator, at i+iconUSA, a diversified group of heavy-civil industrial construction companies. After spending the last 25 years in construction, he gave us his opinion on what drone mapping offers the construction industry.
What You'll Learn:
In the interview below, you'll learn about the applications he values the most for construction drone mapping operations, the trials of building out a drone mapping program in-house, and the importance of real-time data for bidding on projects.
Q: Being a vet in the construction industry, what are the biggest changes you've seen in data capture technology?
A: One of the biggest changes I've seen in data capture is the ability to analyze that data in a real-time fashion. With drone mapping, getting the snapshot in real-time is really the biggest and most impactful change I've seen.
Q: Why is it valuable to have such a quick turnaround with data returns?
A:  It allows us to make corrections to project bids and project more accurately, so we're able to see our actual progress and production rates.
Also, with this fast data, we're able to compare an orthomosaic to a design plan. This allows us to make sure stockpiles aren't going into an intrusive place where they'll need to be moved again.
Q: What was it like trying to build out your own drone mapping program?
A: We realized building out a drone mapping program in-house is extremely expensive after just doing some research on a high level. From getting a computer that is able to process the data coming in from multiple sites, to the photogrammetry software, to the insurances, to preparing for the FAA Part 107 on our own. As it turns out, the mapping drone was the cheapest part! For that reason alone, is what led us here.
Q: What drone mapping reports and applications do you use most?
A: Anything to do with volumetrics and volume tracking. We're tracking the same areas week by week and make comparisons to the finish ground and the existing ground, and we have all of that recorded data.
This helps when we're submitting payments and allows us to understand the work we've done. Also with drone data, we can look at our production rates, which is great for making projections.
With this library of information, we're able to make more accurate bids on projects moving forward.
Q: What area of the construction process has drone mapping had the biggest impact on you so far?
A: I think the biggest impact by far is the ability to get the snapshot of the project in real-time. At 1:00 pm on a given day, we know what the project looks like– the 3D models, the volumes extracted, etc, allowing us to understand the number of resources used between one point in time and another point in time. It gives us a much more accurate depiction of the costs associated with those volumes.
You can listen to our live interview with Jason here. This Q&A was adapted from the webinar How to Budget Your Drone Mapping Program for 2018.
Interested in hearing more from experts and thought leaders in drone mapping? Check out the last installment in the Monthly Flyover series here about how drone mapping impacts mining efforts.