20 Oct

Monthly Flyover: Engineering Firm Leverages Drone Data to Keep Clients Happy and Increase Profits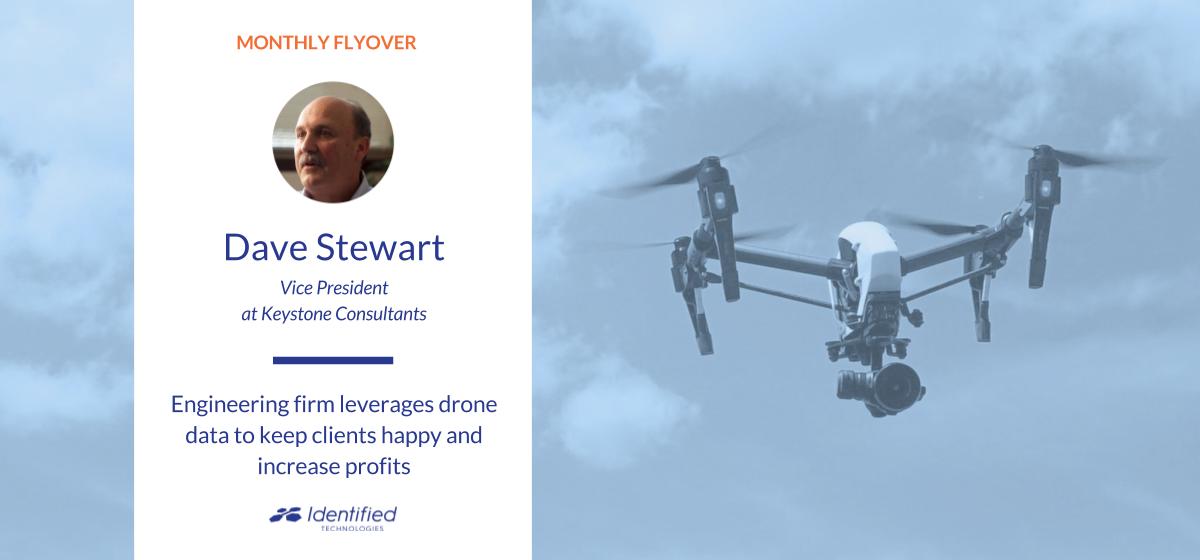 We spoke with Dave Stewart, Vice President of Keystone Consultants, an engineering firm located outside of Pittsburgh, PA. As a seasoned veteran, spending over 30 years in the industry, he offered his unfiltered feedback about drone mapping in the engineering industry.
You'll learn about his experience using the drone as a tool to get data quickly, how it offers a competitive advantage, and how he was able to integrate the service seamlessly into operations.
Q: How long have you been working in the industry and what are some of the biggest changes you've seen in data capture technology over time?
A: It starts clear back with using punch cards and transitioning to personal computers. I worked at companies that did large photogrammetric mapping projects; transitioning into LiDAR for large surveys and now into the use of drones, so there's been quite a few in surveying and mapping technologies of high-definition survey equipment, GPS. The sophistication that that's gone through over the last 15 years has been amazing.
Q: What got you interested in drone mapping and why did decide to go with a solution provider?
A: Keystone prides itself on having the tools of a large firm, but we're reasonably small — about 100 people now. So, we try to offer everything that the top 25 engineering companies offer in terms of technology related to their projects.
Our clients had heard of drone mapping, some of them were asking about it. Initially, we were going to go through the process of buying a drone and doing it ourselves. We met Identified during that process and found that the speed-to-market was just very attractive.
Had we done it on our own, it would have taken us probably six months to a year to really get up and running with all the details of the licensing, etc.
We also received assistance with the FAA [Part 107] exam and data processing. We already have people that are very experienced with working with surfaces, civil 3D volumetrics, and different aspects of LiDAR, but we had never had it all ourselves.
Q: What was your experience integrating the drone mapping software into your company operations, and what reports do you use most?
A: Well, the interest from our client base has been really leaning towards earthwork quantities and as-built situations. Recently, we've been working on a pipeline project here in Pennsylvania.
We're using the drone to compare the conditions prior to construction to the conditions restored, and for understanding the earthwork done in this part of the country to assist in bidding processes for future pipelines.
Q: Have you and your team found it accessible to do export data to your own tools?
A: Yes, it's very seamless. Normally, if we'll fly a site today, and receive the output from Identified the next day that's in a format that we can then put into most standard CAD package, earthwork, GIS-type applications.
Q: I always hear that for surveying firms, customers want everything done yesterday. Why is that, and how has drone mapping helped you speed up your operations?
A: Time is money, at least to most of our clients in the oil and gas business, so the sooner that they can get gas flowing through the pipeline or gas flowing from a well pad, the sooner they begin to make money. The responsiveness is critical to them, and that's something that the drone mapping has helped.
Q: What is one of the biggest advantages of drone mapping in your opinion?
A: Going back to that 10-mile pipeline project– we looked at doing it conventionally with a fixed wing because the project was rather long.
The first red flag was our inability to control timing; we couldn't start for another two weeks since we were using an outside resource. With drone mapping, we could start today because we were able to do it on our own.
The cost was also 30% more doing it with a fixed wing and the schedule was significantly longer than we could accomplish the same work. So, actually having that mapping tool as part of our other surveying equipment gives us a bit of a competitive advantage over schedule, since we control the resource, not another company.
Q: What advice would you give to others considering drone mapping?
A: Having been in the business a long time and been part of the development of some other technologies along the way, I couldn't think of a better method. It's worked out really well for us.
The collaborative nature of Identified, where the CEO has probably been to our office three times in this past year and the interest in improving the product has been pretty outstanding from a service standpoint.
You can listen to our live interview with Dave here. This Q&A was adapted from the webinar What is the Real ROI of Drone Mapping?